Marco Lo Muscio was born in Rome on October 23 1971. Marco is one of the most versatile musicians of his generation: organist, pianist, composer. Marco cooperates for recordings and concerts with renowned artists as Kevin Bowyer, David Jackson (Van Der Graaf Generaor), John and Steve Hackett (Genesis).
He graduated in piano with full honours "Cum Laude" at "Licinio Refice" academy of music guided by Maestro Tonino Maiorani, and later studied for three years with the great pianist Sergio Fiorentino (1927-1998) attaining the Diploma of Advanced Studies with full honours at the academy "Bartolomeo Cristofori". He also graduated in Pedagogy "Cum Laude", guided by prof. Giulio Sforza, in the University of "Rome Tre" (degree thesis on Keith Jarrett and Glenn Gould), and in organ with prof. James Edward Goettsche (Main Organist of St. Peter's Basilica in Vatican). Marco is the first musician who has brought transcriptions of 'progressive music' into the concert halls and cathedrals, thrilling audiences with music by composers like Kieth Emerson, Rick Wakeman and Steve Hackett (Genesis) in this acoustic way. Marco's compositions are similarly 'progressive' in their own way.

He has given more than 700 concerts as part of organ and piano festivals at important venues such as: France: Notre Dame de Paris. United Kingdom: Cambridge "King's, St. John's and Queens' College Chapels"; Oxford "Exeter and Queens' College Chapels"; Temple Church, Methodist Concert Hall, Westminster and St. Paul's Cathedrals in London, Hull City Hall, St. Martin Church in Salisbury, and in the cathedrals of Canterbuty, Lincoln, Lichfield, Chester, Blackburn, Rochester, Gloucester, Truro, St. David and Sheffield; Festival in the Shire (dedicated to Tolkien) in Wales. Russia: "Grand Hall of Philharmonia Shostakovic" in St. Petersburg; Glinka Capella in St. Petersburg; Italian institute of culture in St. Petersburg; Svetlanov Hall (House of the Music), St. Mary Cathedral, Gnessin Academy and Baptist Church in Moscow; Volgograd (Stalingrad) Philharmonic Hall; in the Organ Halls in Chelyabinsk, Archangelsk, Kondopoga, Dubna, Kislovosk, Kirov; USA: New York (St. Thomas Church - Fifth Avenue, Central Synagogue in Manhattan and Barnard College), Boston (Trinity Church) ,Chicago (St. John Cantius), Washington (National City Christian Church), Milwaukee (Cathedral, St. Cyril and Methodius); Baltic Counties: Riga Cathedral (Latvia) "Riga Dom Festival"; Vilnius (Lithuania) "Christopher Summer Festival"; Tallinn (Estonia) "International Organ Festival". Finland: Helsinki " Church of Rock", Tyyki Jazz Festival, and cathedrals of Turku, Lahti and Mikkeli. Scotland: in the St. Giles Cathedral in Edinburgh and in the Memorial Chapel in Glasgow University. Switzerland: St. Peter and Paul Cathedral and Hammond Organ museum in Zurich. Denmark: Copenhagen in the Holmens Kirche (the church of Queen of Denmark) and Sorø International Music Festival. Norway: Bergen Organ summer festival in the Maria and Johannes churches; Oslo: Røa Kirke International Festival and Italian institute of culture; Molde Cathedral. Sweden: Götheborg and Uppsala Cathedrals. Germany: Nikolai Kirche in Leipzig, Wiesbaden (in the Markt Kirche and St. Bonifatius Kirche), in the Magdeburg Cathedral, Landsberg Festival, in the church of St. Gabriel and St. Holy Spirit in Münich, Ingolstadt, Pforzheim, Immenstadt, Fussen. Poland: "Danzig (Oliwa) and Frombork Festivals"; France (Strasbourg, St. Räphael, Obernai, Paris). And also in: Iceland, Belgium, Palm of Majorca, Ukraine, Portugal, Åland Iceland (XXXI International organ festival),Bornholm Iceland, in the church of St. Nicholas in Prague, in the Seville University in Spain. Vatican: Basilica of St. Peter, Clementina Chapel in the presence of Pope Giovanni Paolo II. Italy: Roma: I.U.C. "Aula Magna of the University La Sapienza", in the Pantheon, Barberini Palace, Marcello Theatre, Villa Torlonia, St. Paul Basilica, St. Paul within the walls, etc...; Pontino and Euro Mediterraneo Festivals; Florence (churches of St. Maria dei Ricci, e St. Stefano al Ponte Vecchio), La Verna International Organ Festival, Cathedral and Piccolomini Palace in Pienza (with Mario Luzi), "Dusk Day 2008" in the Orvieto Cathedral, St. Antimo Abbey, Cantù International Organ Festival, Fano and Porto San Giorgio internationals organ Festivals, Tolkienian Path Festival in Piemont, Politeatro in Milan, Festival in the Valsesia, Festival "La fabbrica del canto" in Milan, etc…
His performances have been broadcast in radio and television: BBC TV and Radio, RAI TV, SAT TV2000, Vatican Radio, Russia TV, BR Classik, etc...
Important is also the work of collaboration with projects of Finnish Magazine Colossus and realized from the French label Musea Records: "Rabid Dogs...Opening Themes", "Dante: Paradise, Divine Comedy Book III", "Homer: Iliad", "Tales of Edgar Allan Poe", "Boccaccio: Decameron", "Homage to Flower Kings".
Marco's music is published by the Italian firm "Erreffe Musica", and has been played world wide (Europe, Russia, Singapore, Australia, New Zealand, South Africa, USA) by renowned musicians such as: Christopher Herrick, Thomas Trotter, John Hackett, Kevin Bowyer, David Briggs, John Scott, Roger Sayer, Stephen Farr, Andrew Canning, Aivars Kalejs, Alessandro Bianchi, Massimo Nosetti, Martin Setchell, Michael Eckerle, Willibald Guggenmos, Fredrik Sixten, Johannes Skudlik, Carson Cooman, Colin Walsh, Andrea Padova, David Jackson, etc.. Many composers have written new pieces dedicated to him: Andreas Willscher, Carson Cooman, Steve Hackett, John Hackett, Grimoaldo Macchia, etc... Marco has specialized not only in the classical repertoire but his transcriptions and arrangements of contemporary jazz and Progressive music brought him into contact with big historical names such as Rick Wakeman, Keith Emerson, David Jackson, John and Steve Hackett. From these contacts are born albums such as "The Book of Bilbo and Gandalf" (dedicated to Tolkien), and his latest CD "Playing the History" recorded with John and Steve Hackett and David Jackson. Since 2004, Marco is the Artistic Director of '"International Summer Organ Festival in Rome." In 2013 he started to recording for the famous British label "Priory Records" on the series "Great European Organs."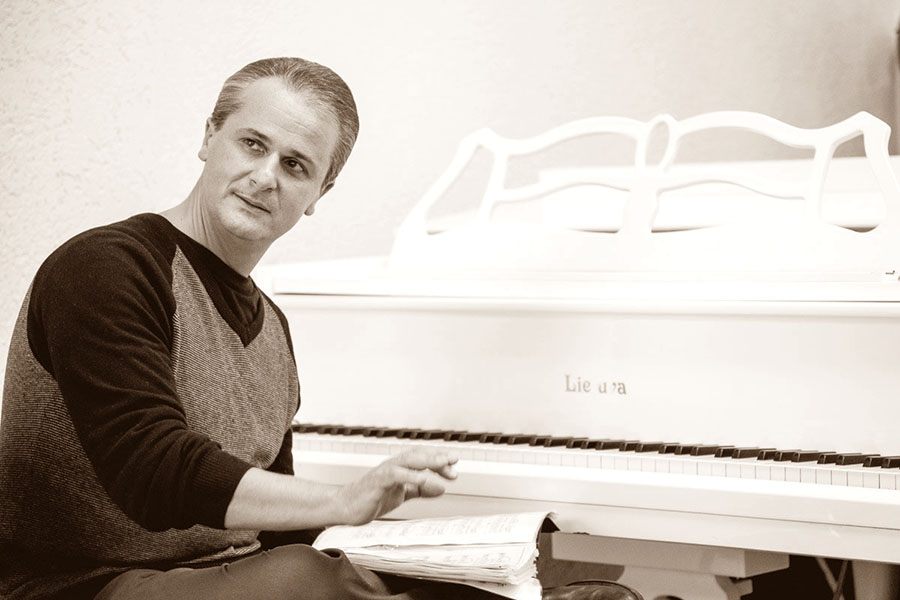 ---
REVIEWS:
"...a marvellous musician!"
Steve Hackett (Genesis)
"The CD of Marco Lo Muscio in Rome is really a great success! Marco's playing is so energetic and musical and the organ sounds fantastic with such clear choruses, mutations and reeds. I'm very impressed by the technique and musicality of Marco. A truly great organ!"
(Colin Walsh, International organist and Organist of Lincoln Cathedral)

"Thank you for your fine recital last week. I have received a number of very nice comments about it!"
Dr. Stephen Cleobury (Kings College,Cambridge)

"...Brilliant CD played fantastically! It was wonderful to feel the power of the organ combined with your complete commitment to the instrument and the music of all the composers. It was a sensational experience to hear music that started out as little doodles on the guitar being given such a extraordinary treatment. I'm a big fan of the sound of the organ which is a complete world in itself, especially in dedicated hands."
Steve Hackett
"I have just been playing "Bilbo's Dream". It is a really lovely piece and so nicely structured with the lively Shire theme in the middle.
it is not easy to write a convincing work for solo flute but you have produced something really marvellous here and I hope to play it in concert soon!"
John Hackett
"This CD includes so much interest and makes for a very enjoyable listening experience. I look forward to further collections of this ilk."
Lark Reviews

"Typically for Lo Muscio the programme pushes eclectically at repertoire boundaries with an idiomatic certainty that pleases - and persuades."
Michael Quinn Choir and Organ

"These pieces would make fine inclusions in recital programmes - all are intensely inventive, and also listenable with plenty of interest for the listener whether expert or not. The registrations and performances on the fine instrument at Glasgow University are riveting - the clarity afforded to this music is second to none. These aspects are exactly what one has come to expect from this player and this recording company."
David Dewar - Organists Review
"What Marco Lo Muscio presents is my ideal of music: entertaining and meaningful. Prog-Rock played on pipe organ: why nobody else thought of something so cool before?!? Marco is a keyboards 'maestro'; his arrangements are warm, and respectful of the original. A real pleasure to listen to, both on CD and live".
Corrado Canonici (Director of "World Concert Artists", Double Bassist, Agent of Keith Emerson)

"I know about this guy; very very good as well I'm told. Is a very good organist"
Rick Wakeman (Yes)

"... exceptional, precise and of quality!"
Prof. Antonio Latanza (director of the museum of the musical instruments of Rome)

" …He shows technical solid and strong, excellent heir of the school of Fiorentino and Germani".
Federico Borsari (concert organist)

"A CD with little works well-known and a large search in the touch and in the nuance. I love this way to do music!"
Francis Chapelet (concert organist)

"…when this musician has started to play, public has understood: there has arrived the talented powerful interpreter".
Antonina Vinnikova (Russian journalist)

"…Repertory of rare excellent listening played with large taste. I recommend to all of the purchase of these original CD for organ".
Wijnand Van de Pol (concert organist)

"...Marco Lo Muscio, remember this name, with its false air of Rick Wakeman of modern times, is nothing less than the revelation of the year 2010 with this album "The Book of Bilbo and Gandalf". (RYM Review)