K. Jarrett:
Adagio (Final) Part I & "Over the rainbow" from "Scala Concert"
Blues & "The Wind" from "Paris Concert"
Adagio and Blues & "Danny boy" from "Roma Concert"
Heartland from "Bregenz Concert"
Song: "The Cure"
Staircase part III
From "Book of Ways": Pieces n° 9, 15, 17, 18.
From "Dark intervals": Hymn (n° 2)
Americana (n° 3)
From "The Melody at night": I loves Porgy
Meditation
S. Hackett:
From "Momentum": n°1 Cavalcanti;
n° 2 The Sleeping Sea;
n° 5 A bed, a chair, a guitar;
n° 9 Variations on a theme by Chopin;
From "Voyage of the Acolyte": The Lovers
From "Bay of Kings":_n° 1 Bay of Kings;
n° 6 Petropolis;
n° 9 Horizons;
n° 15 Skye Boat Song
From "Midsummer Night's Dream": Set your heart at rest
From "Defector": Hammer in the sand

B.Mehldau:
Bard from "Elegiac cycle"

C. Corea:
Star Island from "Voyage"
Picture n°8 Cristal silence

L.Tristano:
Requiem in memory of Charlie Parker

P. Bley:
Harlem (blues)

D. Shire:
Blues for Harry

D. Brand:
Ode to Duke Ellington

E. Pieranunzi:
Preludio per la mano sinistra

K. Emerson:
Jazz-fantasy from "Piano concert n° 1"
Inferno (arr. Luca Bernardini)
From "Tarkus": Infinite Space
T. Banks:
From "Selling England by the pound": "Firth of fifth"

R. Sakamoto:
From "BTTB": Energy flow
Aqua
Sonatine

J.S. Bach:
Preludio dalla Suite n°1 per violoncello BWV 1007
Sarabanda dalla Suite n°6 per violoncello BWV 1012
Ciaccona in re minore BWV1004
Canzona in re minore BWV588
Corale "Wir singen dir" dall' "Oratorio di Natale" BWV248
Corale "Jesus, joy of man's desiring" BWV147


C. Franck:
I° tempo dalla Sonata per violino e pianoforte: "Allegretto ben moderato"


G. Faurè:
Song: "Après un rêve" op.7 n° 1 (also for organ)


O. Messiaen:
Da "Poèmes pour Mi": n° 5 e n° 7


L. Vierne:
Berceuse op.31 n°19


R. Wagner:
Marcia funebre dal "Crepuscolo degli dei"

Transcriptions for Organ:
Passacaglia Ungherese
Four Early Pieces For Piano "Basso Ostinato": n°1
da "Musica Ricercata": n°6, 7, 8
Ballade and Dance
Màgany

A. Pärt:
Fratres from string quartet
Summa from string quartet
Für Alina from piano
Spiegel im spiegel from cello and piano
"Es sang vor langen Jahren"
Cantus in memory of B.Britten (trascrizione di R. Bertero)
K.Jarrett:
From "Invocations": Part V – Recognition
From "Spirits": Piece n° 15
Dance from "Violin Sonata"

R. Wakeman:
From "Six Wives of Henry VIII":
n° 1 "Chatherine of Aragon" - n° 4 "Jane Seymour" - n.6 "Catherine Parr"
From "Criminal Record": Judas Iscariot

K. Emerson:
Fantasy on "Fanfare for the common man" by A. Copland
Jerusalem
Clotho from "Three fates"
Stones of Years from "Tarkus"
From: "Pictures at an Exhibition":
Promenade 1 and 2
The Sage
Old Castle & Blues Variations
From: "Trilogy":
Prelude and Fugue before Endless Enigma
Endless Enigma Part 2
Interlude
Touch and Go (Fantasy on a theme by R. Vaughan Williams)
Step aside

S. Hackett:
From "Bay of Kings": n° 3 Kim
n° 8 Cast Adrift
n° 9 Horizons
Second Chance
From "Guitar Noir": Walking Away from Rainbows
From "Voyage of the Acolyte": Hands of the Priestess - Shadow of the Hierophant
From "Midsummer Night's Dream":All is Mended
From Genesis Album: "Hairless Heart" - "After the Ordeal


J. Hackett:
Overnight snow
Galadriel's Memories
Thoughts turn Homeward
Velvet afternoon
Ice cream Waltz

A. Phillips:
From "The Geese and the Ghost" : Fanfare and Lute's Chorus


King Crimson:
"I talk with the wind"


Pink Floyd:
"The Great Gig in the Sky"

J. Garbarek:
Molde Canticle Part I and Part IV
The Creek
"Parce mihi Domine" From: "Officium"


H. Banton/VDGG:
Theme One


T. Bodin (Flower Kings):
Pipes of Peace
R.Vaughan-Williams:
Fantasia on a Theme by Thomas Tallis
From "Job-a masque for dancing": Part n° 7
Prelude from "Fantasy Quintet"

A. Hovhaness:
Prayer of St. Gregory op.62

G. Gershwin:
Adagio from Piano Concert in F Major

S.Barber:
Adagio op.11 for strings

A. Copland:
Fanfare for the common man


J. P. Traun:
A blues day op. 65 for guitar

G. Björk:
Overture from "Selma songs"
Song from "Post": "You've been flirting again"
Song from "Debut": "Human behaviour"

Dead can dance:
"De Profundis" and "Ascensions" from "Spleen and ideal"
H. Shore:
From "The Lord of the Rings": The Council of Elrond
May it be
E. Satie:
Gymnopèdies n° 1 e n° 3

C. Debussy:
The little shepherd from "Children's corner
Fanfare from "King Lear"
M. Ravel:
Da "Ma mère L'oye": Pavane de La Belle au bois dormant
Le jardin féerique.

Y. Kilpinen:
Lieder op. 48 n° 3
op. 53 n° 1 e n° 4

R. Strauss:
Introduzione a "Così parlò Zarathustra" op. 30
"Daphne - Etude"

G.F. Händel:
Fuga in re minore dal "Messia"
Sarabanda in re minore
W.A. Mozart
From Requiem: "Lacrimosa"
Kyrie KV90

H. Purcell:
March from "Music on the Death of Queen Mary"
Lamento di Didone

G. Caccini:
Preludio in fa minore (Ave Maria)

J.S.Bach:
Song: "Bist du bei mir" BWV 508
Sinfonia dalla Cantata BWV 249
Sinfonia dalla Cantata BWV 156
Preludio in sol minore BWV 929

C. Monteverdi:
Toccata dall' "Orfeo"


M. Praetorius:
"Puer natus in Bethelem" n° 1 e n° 2

G. De Machaut:
Kyrie dalla "Messa di Notre-Dame"
Chanson Balladée


A. Vivaldi:
Largo dalla Sonata in la minore RV 44
Allegro dalla Sonata in mi minore RV 40


F. Chopin:
Preludio in do minore Op. 28 n.20
B.Cowie:
From "La chanson bien douce": n. 3, 5, 22.

Leoninus, Perotinus, Dufay, Ockeghem, D'Amiens: Medieval music

Special Repertory for Organ and Piano :
G. Ligeti:
"Musica Ricercata"; "Four Early Pieces"
T.Tallis:
Felix Namque I
J. Bull:
In Nomine I & II; Prelude in a minor
W. Byrd:
Lady Montagle's Pavane; Pavane in a minor
P. Phillips:
Pavana "Dolorosa"
H. Aston:
Hornepype; My Lady Careys Dompe
Master Newman:
A Pavan ("Mullines Book")
T. Preston:
Uppon La, Mi, Re
J. K. F. Fischer:
"Ariadne Musica" (20 Preludes and Fugues)
J. H. Buttstet:
Prelude and Capriccio in d miror; Fugue in g minor
J. Alain:
Piano and organ music (excerpts)
J. Langlais:
Piano and organ music (excerpts)
Pièce n° 2 (my transcription)

O. Messiaen:
Organ music (excerpts)
"Eclairs sur L'Au De-Là": n° 5
"Quator pour la Fin du Temp": n° 5, 6
Pièce pour le tombeau de Paul Dukas pour piano
Preludes n° 1, 2, 4, 7, 8 pour piano
Regards n° 1, 7, 11, 15, 19 pour piano
Ch: Tournemire:
Organ music (excerpts)
Préludes-Poèmes op. 58: n° 9-10-11-12 pour piano
Étude n° 1 op. 70 pour piano
Improvisation op. 26 pour piano
F. Mompou:
Cant Magics
Fêtes Lontaines
Preludio n° 5 pour piano
A. Hovhaness:
Shalimar Suite op. 177 for piano
Prayer of St.Gregory
A.Pärt:
Organ music (complete)
F. Liszt:
"Harmonies Poètiques et Religieuses"
Preludio su "Weinen Klagen"
C.Debussy:
Images oubliées
Études: n° 1, 2, 3, 10, 11, 12 pour piano
Ch. V. Alkan:
Preludes op. 31 n° 5 e n° 13
Super Flumina Babilonis op. 52

J. Kuhnau:
Sonate Bibliche n° 4 e n° 6

L. Couperin:
Tombeau de M. de Blancrocher
Passacaglia in sol minore
J.S.Bach:
Ricercare a sei voci BWV 1079
5 Contrapunctus da "l'Arte della fuga" BWV 1080

F. Gulda:
Piano Play (excerpts)
P.Glass:
Metamorphosis for piano

D. Bourgeois:
Variations on a theme by Howells op.87 for organ
Choral Prelude op.14

S. Preston:
Alleluyas for organ
J. Weaver:
Passacaglia on a theme by Dunstable for organ

H. Howells:
Master Tallis's testament and Paean for organ
Lambert's clavichord.
E. Rautavaara:
Études n° 1 n° 3 e n° 6
Ikonit n° 3 e n° 6

B. Slogedal:
Variations on Norwegian Folk tune for organ
Variations on Christmas Choral: "En Rose er utsprunget"


P. Spicer:
Kiwi Fireworks, variations on "God defend New Zeland" for organ
Suite

G. Thalben-Ball:
Variations on a theme by Paganini for Pedals

W. Walton:
Three pieces from "Richard III"
Three pieces from "Henry V"
B. Hesford:
Variations on a theme by Paganini op. 68


G. Fitkin:
Fervent for piano; Piano pieces

N. Kapustin:
Piano music (excerpts)

K.M. Karlsen:
8 Folk Norwegian tune Preludier from op. 43

R. Purvis:
Chorale-Prelude on "Greensleeves"

P. Selby:
Piano music (excerpts)
W. Mertens:
Close cover for piano; Struggle for pleasure for piano
C. Steel:
Variations on a Theme of Guillaume de Machaut op. 65 for organ
C. Cooman
"Works for Organ" :
Canzona II - Canzona IV - Canzona VI - Three Renaissance Dances - Preludio quieto
Tiento - Ricercari - Roundelay - San Francesco a La Verna - Passacaglia semplice
Pavane for a Duchess at St. Andrew's, Fantasia on "Greensleeves", Litany, Gothic Processional,
Eternal City (Mystic Preluse, Fire Dance), etc...
Phrygian Fancy; "Shades o a White Rose"; "Fotheringhay Suite"; "A Minstrels' Gallery"
L. Rogg
"Works for Organ"

P.Freddi
"Gocce" for piano


A.Celletti
"Golden Fly one"


P.Lazzeri
"Works for Organ"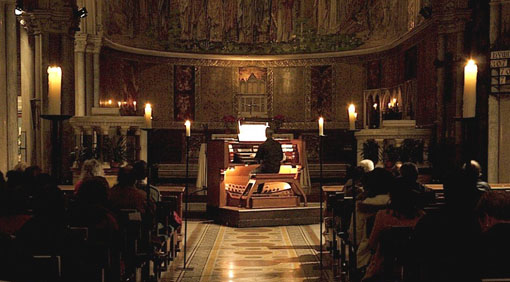 …and "the classic" repertory:
Bach, Beethoven, Mozart, Schubert, Schumann, Debussy, Ravel, Shostakovic, Grieg, Frescobaldi, Buxtehude, etc...